This page provides information on a number of different funding sources for community environmental projects. It is worth keeping an eye on these – check the submission dates and requirements. Most of these roll around on an annual basis so if you miss one year you can apply again the next year.
Axa Parks
AXA Insurance has launched a new €1m initiative called AXA Parks. This new environmental grants programme will support local community projects that demonstrate a real commitment to improved outcomes for our environment and our communities' wellbeing. Details at: https://www.wheel.ie/news/2022/04/axa-parks-fund-offering-environmental-grants-local-community-projects
Community Water Development Fund 2022
The launch of the 2022 fund took place at the Communities Caring for Water Conference on Saturday morning 20 November 2021. It is likely that a similar timetable will be used for the 2023 round of funding.
The results of the Community Water Development Fund for 2022 were announced in May 2022.
The closing date for applications for funding was 15 March 2022. Details at: https://lawaters.ie/community-water-development-fund-2022-now-open/
A follow-up seminar the Irish Rivers Trust and Catchment Community Groups Seminar: Communities Caring for Water took place on Saturday 28 November 2021 from 9:00 to 13:00:. Communities caring for water: Saturday 28 November – Catchments.ie – Catchments.ie
A guidance document containing many examples of projects suitable for funding under this programme has been published by LAWPRO – Guidelines for Community Water Development Fund 2022.
A further webinar/clinic was held on 13 January 2022 outlining the type of projects to be funded under the programme. https://vimeo.com/665608479?ref=tw-share – see screenshots below of topics covered.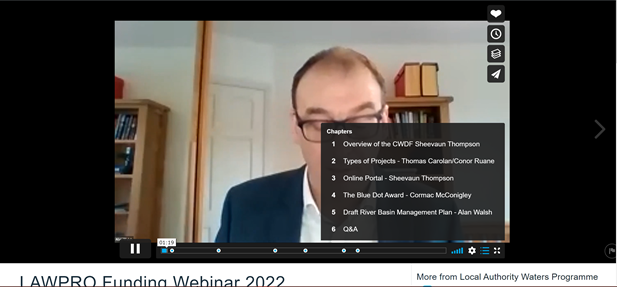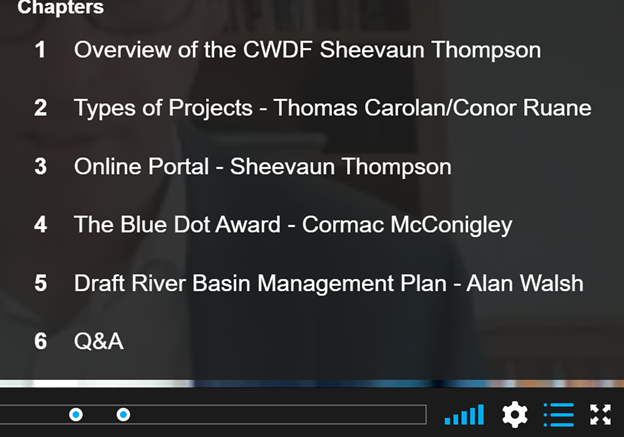 ============================================
Inland Fisheries Ireland – Habitats Conservation Funding Call
Details of this call are available at:
https://www.fisheriesireland.ie/services/funding/habitats-conservation-funding-call-2022
Tidy Towns Water Awards
The Waters and Communities Award
Prize Fund €7,000
Sponsored by Inland Fisheries Ireland, Waterways Ireland and the Local Authority Waters Programme
The award is open to any community group who has shown an appreciation for their water environment and water heritage by showing examples of initiatives undertaken during 2021 (examples include: support to biodiversity and water heritage; citizen science; promotion of angling; awareness raising events and initiatives; clean ups of local waterbodies; provision or upgrading of amenities, etc.)
Entry Portal available shortly
For more details see www.watersandcommunities.ie
Waters and Communities Award – TidyTowns Competition 2022 | Online Consultation Portal of the Waters and Communities Office