There are currently two open funding calls that are suitable for local community water groups to apply for:
Launch of Community Water Development Fund 2022
This took place at the Communities Caring for Water Conference on Saturday morning 20 November 2021.
The closing date for applications for funding has now been extended to 15 March 2022. Details at: https://lawaters.ie/community-water-development-fund-2022-now-open/
A follow-up seminar the Irish Rivers Trust and Catchment Community Groups Seminar: Communities Caring for Water took place on Saturday 28 November from 9:00 to 13:00:. Communities caring for water: Saturday 28 November – Catchments.ie – Catchments.ie
A guidance document containing many examples of projects suitable for funding under this programme has been published by LAWPRO – Guidelines for Community Water Development Fund 2022.
A further webinar/clinic was held on 13 January 2022 outlining the type of projects to be funded under the programme. https://vimeo.com/665608479?ref=tw-share – see screenshots below of topics covered.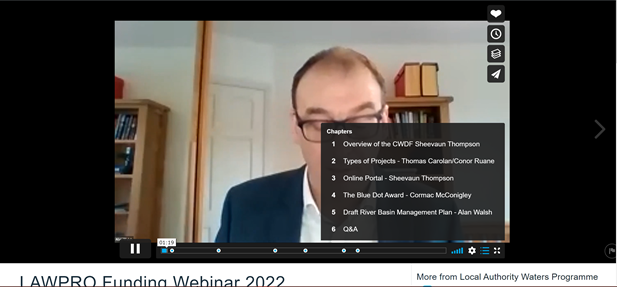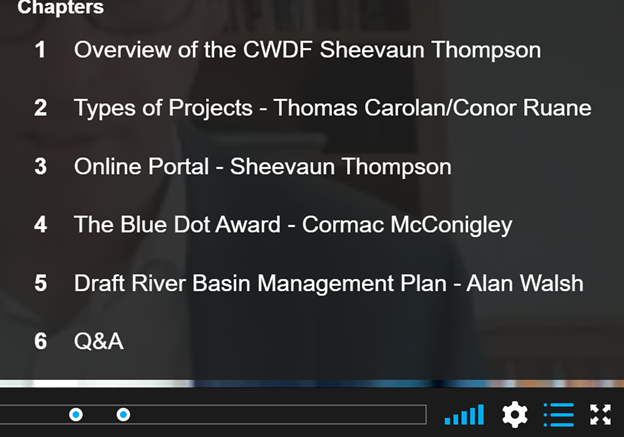 ============================================
Inland Fisheries Ireland – Habitats Conservation Funding Call
Details of this call are available at:
https://www.fisheriesireland.ie/services/funding/habitats-conservation-funding-call-2022