Dragonfly Ireland 2019 – 2024 is funded by the Environmental Protection Agency as part of a 3-year Citizen Science Project focused on aquatic species and their use as indicators of climate change and water quality. More details below.
The good news is that the National Biodiversity Data Centre will be holding a Mayo Dragonfly Ireland training session in the Belcarra Community Centre. It will be held on 9 July 2022 and places are limited and it's €20 to register (€10 for students). You can book a place through the following link. https://dfibelcarra2022.eventzilla.net/web/event?eventid=2138817945
As part of World Wetlands Day 2022 a Zoom session was held focusing on dragonflies and damselflies. The session was open to the public on Zoom 7:00 pm on 2 February 2022.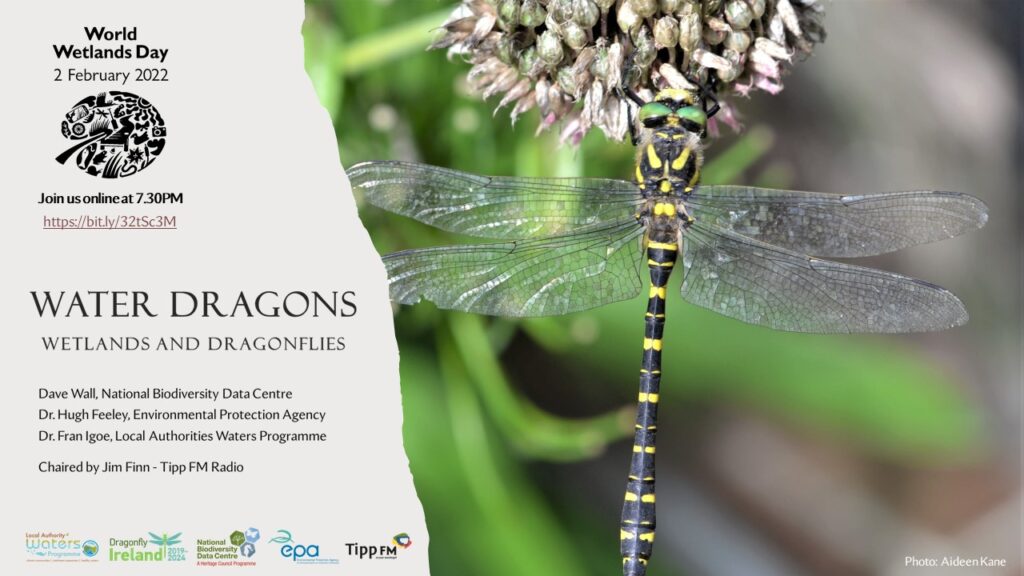 World Wetlands Day event on 2nd Feb. The webinar is set up and the link is https://bit.ly/32tSc3M
Water dragons: Wetlands and dragonflies
This was an event to mark World Wetlands Day 2nd February 2022
This online event discussed the role that wetlands play in supporting some of our more iconic aquatic biodiversity. Focusing on dragonflies and damselflies, we examine what is known about them, their diversity, the role of the citizen scientist and how people can get involved in surveying them. The discussion also includes a focus on water quality, what we can do to enhance their distribution and habitats.
Dave Wall from the National Biodiversity Data Centre leads out with a presentation on the work being carried out by the NBDC and supported by the EPA. Dr. Hugh Feeley of the EPA and Dr. Fran Igoe or the Local Authority Waters Programme joined the conversation to discuss water quality and habitat restoration considerations.

The session and Q&A was chaired by Jim Finn, Tipp FM Radio Presenter of the Ag- Report.
The latest newsletter from the Dragonfly Ireland project is linked to below:
https://mailchi.mp/biodiversityireland.ie/dragonfly-ireland-2019-2024-newsletter-5705672
Biodiversity Ireland are very keen to run Dragonfly & Damselfly Recording and Identification workshops in Mayo 2022. Mayo is in need of more coverage – organizing such a workshop would be a perfect project for participants in the Mayo Communities Caring for Water programme.
The National Biodiversity website has a section devoted to these surveys and the distribution of Dragonfly and Damselflies are mapped across the country with recorders details and species names. There are lots of gaps waiting to be filled in County Mayo!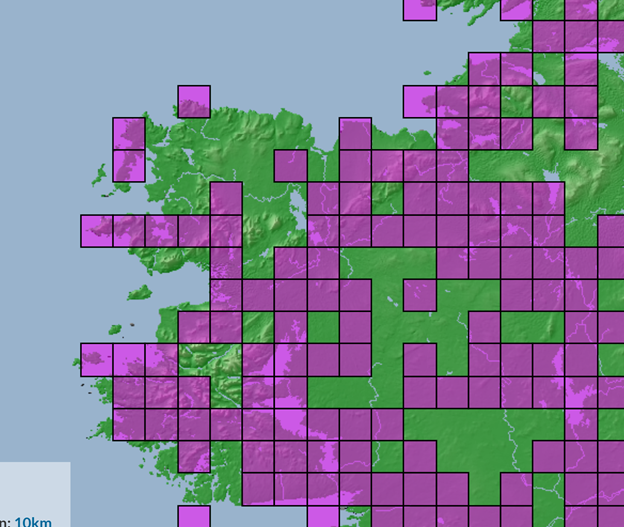 Biodiversity Ireland has a video course aimed at helping you to identify these fantastic creatures in the wild.