On Sunday 6th March 2022 we visited Mulranny and Achill with experts Jackie Hunt and Sorsha Kennedy. Starting at the salt marsh behind the sea wall and pier in Mulranny we saw a large number of light-bellied brent geese feeding on the marsh grasses. Also plenty of curlew, oyster catchers, redshank, dunlin, great black-backed and herring gulls. Then, on the seaward side a few great northern divers, cormorants, red-throated divers.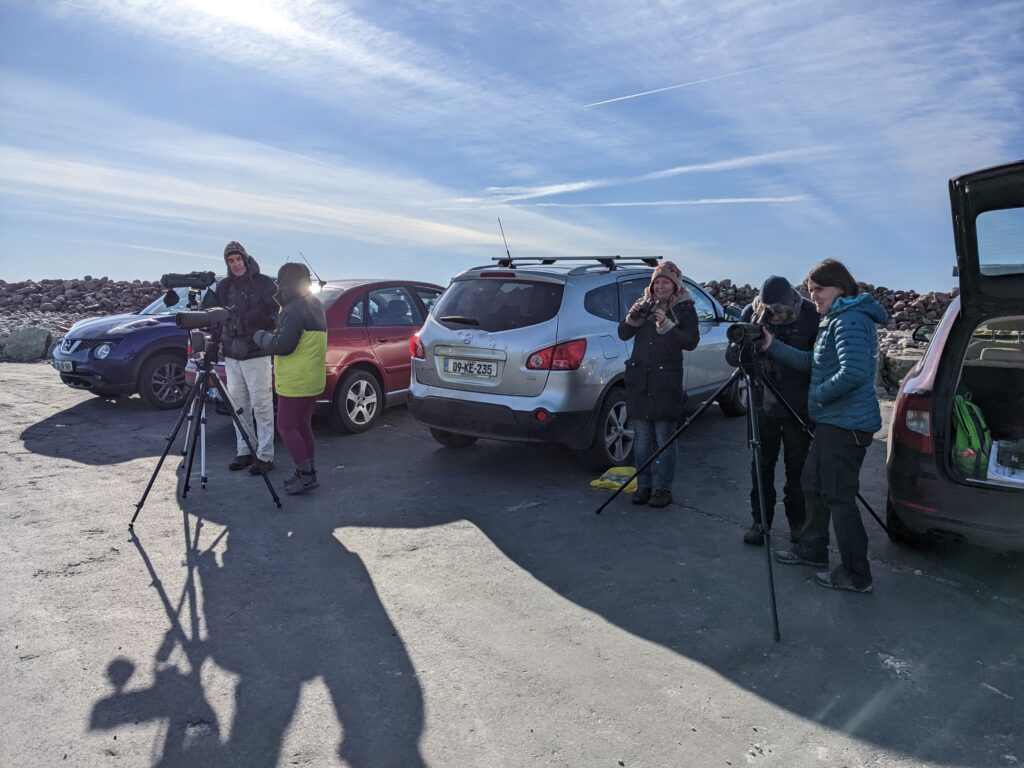 At Keel Beach, Bervie, we saw divers, more brent geese but also barnacle geese feeding on the nearby island's grass. Sorsha showed us some otter spraints and described their behaviour – the same species as otters found in freshwaters, the Eurasian Otter (lutra lutra), but different lifestyle.
Finally, on to the spectacular Keem Beach in glorious sunshine, although the photos make us look more like Arctic Explorers – it was windy and very chilly. Sorsha is with the Irish Whale and Dolphin Group and she described the counting methodology to us providing a handy "Guide to Ireland's Ocean Giants" to the 25 species of cetaceans (whales, dolphins and porpoise) that occur in Irish waters. Patience is required as well as calm seas for best viewing. We did, however, see a grey seal leisurely surfing along very close to the beach. The IWDG are looking for volunteers to help with recording the presence of these wonderful creatures and also Bird Watch Ireland are always looking for new volunteer counters.
For registered participants on the Mayo Community Caring for Waters programme we have emailed a link to Jackie Hunt's talk on water birds that describes the methods and data sources used by Bird Watch Ireland.