On 9/10 march we ran two evening sessions with a webinar style approach to dealing with projects – lots of ideas and what is needed to get them ready for funding – possibly some for this year's LAWPRO Community Water Fund that closed for applications on 15 March. On March 10th we looked at River Trusts and covered many ideas for water-related projects.
The 2022 winter online sessions commenced on Mondays 17, 24 & 31 January and continued on 7, 14, 21 & 28 February.
Mayo Communities Caring for Water Programme on Monday 28th February from 6.30 until 7.30pm dealt with winter bird and marine mammal surveys in advance of the field trips on Saturday the 5th March (Moy Estuary/Killala Bay) and on Sunday 6th March (Achill/Mulranny). Two expert marine mammal surveyors joined us on each of the field days with Aoife Foley joining us on Saturday and Sorsha Kennedy on Sunday.
Check out the account of these two field trips – the first field trips of 2022 – Killala Bay and Mulranny + Keem Beach.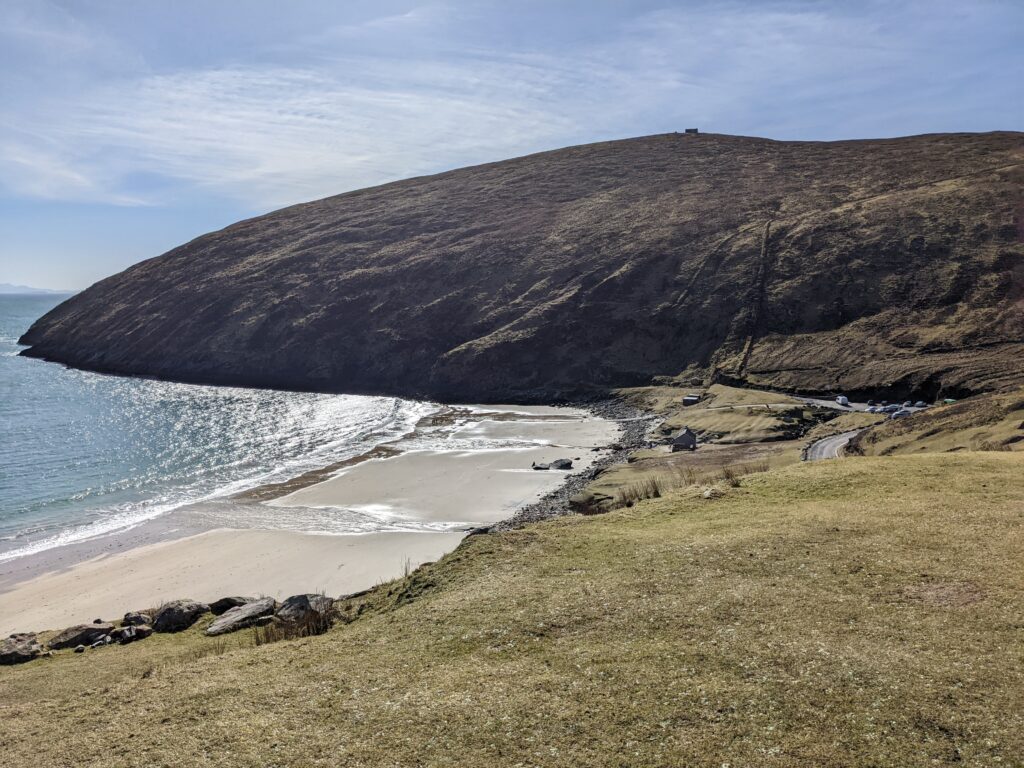 On 21 and 28 February we adjourned after an hour to allow participants to attend the online LAWPRO public consultation session on the draft River Basin Management Plant that began immediately after at 19:30. The LAWPRO meeting on Monday the 28th of Feb focussed on the West Mayo and Erris area.
The classroom programme on Monday 21 February 2022 dealt with fish – particularly trout, pike and perch. The sessions on Monday 21 and 28 February were shorter one-hour sessions in order to facilitate attendance at LAWPRO's Mayo public consultation sessions regarding the River Basin Management Plan – these began at 7:30 pm each day so we ran our sessions from 6:30 to 7:25 pm before joining the LAWPRO public meetings.
We had two further field trips on 12 & 13 March 2022 – to the Carrowniskey and Bunowen/Ballykip Rivers on 12 March and a series of lake visits on 13 March to Lough Lannagh, Lough Cullen and Lough Conn.
One the weekend of 26/27 March we ran two field trips. On Saturday 26 March we walked the Carrowbeg River through Westport looking at issues such as flooding and weirs. On Sunday 27 March we visited Old Head and Bertra Beach looking at the marine environment and discussing seagrasses.
In early April we ran a series of one-day courses aimed at developing your Citizen Science skills with the Citizen Science Stream Index (CSSI) which taught how to detect pollution in your local streams using easily identified macroinvertebrates. These were run during the week of 4 April 2022 on the Bunowen River in Louisburgh, the Straide River, the upper Carrowbeg River and the Castlebar River.
On 7 & 8 May 2022 we had two daylong field and in-person classroom sessions on the Carrowbeg River (Sat 7 May) and Carrowniskey River (Sun 8 May). These put an emphasis on flooding and the physical aspects of the catchment that mitigate or aggravate flooding.
On Saturday 13 May 2022 we visited the Dalgan River in Ballyhaunis and looked at Island and Mannin Lakes. (Details and photos later).
On Sunday 14 May we ran a very successful session entitled "Connecting Belcarra Community with the Manulla River and Walshpool Lake". (Details and photos later).
Programme Completed in 2021
Our autumn 2021 programme kicked off with an introductory session on Monday 11 October. Tom Carolan introduced the many groups from around County Mayo – almost 50 people logged in to the Zoom session. Ken and Martin introduced themselves and outline what is to come during the coming months – online sessions and field visits to a six different locations in the next 6 weeks or so. This was followed by a lively Q&A session with a lot of questions being asked about topics that will be covered in the course of the upcoming talks. So we are off to a good start!
A second online Zoom session took place on Monday 18 October 2021 beginning at 18:30 and running for approximately one hour and a half.
This covered some of the basics of water in Mayo – from the Ice Age to the present day – how do our local catchments work? There will also be an introduction to the basic principles of ecology – the plants and animals in our rivers, lakes, and coastal waters. What forces control them and how they interact with each other.

The field sessions took place on the weekends of:
30 October (Carrowniskey),
13/14 November (Belcarra, Castlebar, Lough Carra)
4/5 December (Kiltimagh, Ballyhaunis, Swinford)
11 December (Curraun, Achill)
These field days involved sampling the rivers and lakes, examining the plants and animals and generally getting 'down and dirty'
| | | | |
| --- | --- | --- | --- |
| Day | Date | River | For participants from: |
| Sat | Oct 30th | Carrowniskey | South Clew Bay group (Louisburgh, Killeen, Delphi valley) |
| | | | |
| | | | |
| Sat | Nov 13th | Manulla/Meander | Belcarra, Castlebar |
| Sun | Nov 14th | Lough Carra, Annie's | Communities around Lough Carra. |
| | | | |
| Sat | Dec 4th | Pollagh/Glore | Kiltimagh, Ballyhaunis, Swinford |
| Sun | Dec 5th | Straide & Moy | Straide, Foxford, Ballina, Knockmore. |
| | | | |
| --- | --- | --- | --- |
| Sat | Dec 11th | Curraun | North Clew Bay group (Newport, Corraun, Mulranny, Achill) |